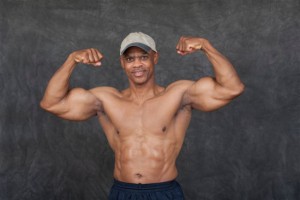 Thank you for visiting my website, let me share a little bit about myself, I am a U.S. Navy veteran, certified personal trainer with the Aerobics and Fitness Association of America (AFAA), speaker and author of "Six Weeks to a Flatter Stomach" and "Get Ready, Get Set, Get Fit! A Guide to Preventing Childhood Obesity".  I am also the host of the Six Weeks to Fitness podcast and President of Body Sculpt of New York, Inc.
I have appeared on various television and radio programs through the years such as ABC-TV's "Good Morning America Health" and most recently on Fox TV's "Good Day New York." I have been involved in fitness for over 25 years now and loving every minute of it.
MY Journey
My love for fitness started in the Navy where I traveled throughout all of Europe, South America, Hawaii, Guam and parts of Africa. What an amazing experience!   While in the Navy, I spent my free time learning Taekwondo and kickboxing. Upon being discharged from the Navy, I began a short-lived bodybuilding career.  Being on-stage and competing with other bodybuilders in front of hundreds of spectators, some of which were screaming my name, was exhilarating.  It's amazing how you can transform your body in a relatively short amount of time through proper nutrition and exercise.
More importantly, I realized that if physical fitness could have such a positive effect on my own body, mind, and well-being, then it could have similar effects on others, especially children. Consequently, I founded and became president of Body Sculpt of New York, Inc., a Brooklyn based not-for-profit health and fitness organization.
Children's Choice Awards
It was always my belief that children should have role models so in 1993 I decided to create the Children's Choice Awards.  The awards show involved a balloting process where children throughout the New York tri-state area voted for whom they believe were their positive role models in Music, Sports, Film/TV, Fashion, Politics and Education.  There were three very unique components to my awards program that stood apart from any other award show at that time:: (i) the award recipients had to personally appear and accept the award, (ii) children actually presented the award to the winners, and (iii) we focused on education and acknowledged teachers from each of the 5 boroughs and parts of New Jersey and Connecticut.  Honorees have included: Michael Jackson, Brandy, Queen Latifah, LL Cool J, former New York State Governor Mario Cuomo, Fashion Designer Tommy Hilfiger,  and many others.

Children's Sports & Fitness Expo
In response to the alarming incidence of obesity among children, in 2004, I created the Children's Sports & Fitness Expo.  The Expo engages children in over 25 sports activities, nutrition clinics, health screenings and live entertainment – all totally free.  Through this event, families gain exposure to activities, programs and services that will help them to become more physically fit, thereby reducing the risk of obesity in their lives. The 12th annual Children's Sports & Fitness Expo took place on June 27th, 2015 at Boys & Girls H.S. in Brooklyn.
Six Weeks To Fitness Programs
In 2008 I created Six Weeks to Fitness programs, where I send fitness trainers and nutritionists to local businesses, churches and community centers to engage adults in exercise and nutrition classes 2 to 3 days per week.  I enjoy helping people get into shape and sometimes that means taking the program to them even if it means taking it to their place of employment.
Six Weeks To Fitness Podcast
I am also the creator and host of the "Six Weeks to Fitness" podcast, where I interview fitness and nutrition experts, along with athletes, celebrities and movers and shakers from around the world to discuss health, fitness and success.
Please take some time to listen to some of these interviews.  You will find these weight loss success stories truly amazing and inspiring.  You will also enjoy the very informative interviews from various nutritionists who will share their weight loss journey and provide advice and tips on how you can lose weight and keep it off.  Some of the people interviewed lost as much as 100 or more pounds and best of all, they're keeping it off.
I have also interviewed athletes, actors and actresses who also have some amazing and interesting stories to share about their careers and what steps they take to stay healthy.
If you have any questions regarding the information on my website, please do not hesitate to contact me at vince@sixweeks.com.  I am here to help you towards your journey into health.