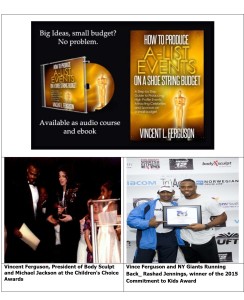 As President of Body Sculpt of New York, Inc., I have produced a variety of fitness events, fundraisers and award shows to promote and bring awareness to the work my organization has been in engaged in for over 20 years and now I would like to share my knowledge with the world.
Have you ever wanted to put on an event but did not know how to get started?  Maybe you knew how to get started but did not have the financial resources to carry out your plans.  You may have come up with a great idea, even a great location for your event, but there was that little problem that most of us seem to face when it comes to carrying out our ideas, our dreams…our finances or lack thereof.   In this course, I will share with you my secret formula on "How to Produce A-List Events on a Shoe String Budget." You will learn step by step what to do to ensure that you have a successful event from start to finish;  you will learn how to define your target audience, set an objective for your event; how to create an event timeline; an event budget; how and where to find volunteers; event marketing and promotion; how to raise money through sponsorships, raffles and more.  You will also learn what techniques I've used to attract celebrities from Michael Jackson; LL Cool J; Wendy Williams, Queen Latifah, Tommy Hilfiger, New York Giants Running Back, Rashad Jennings, singer/producer Ryan Leslie and others, and how these techniques can work for you as well.
This course includes an e-book and a 2 hour digital audio program so you can read or listen to it while on the go.  For more information please visit: http://wp.me/P6ThUw-9z.