In this episode of our Six Weeks to Fitness podcast, I am joined by Kristoffer Quiaoit and Victor Macias, founders and creators of Nui, a cookie brand on a mission to a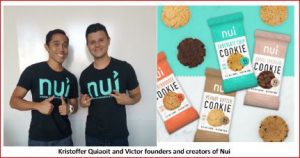 nnihilate sugar addiction. During the interview, Kristoffer and Victor will discuss the impetus for creating a cookie based on the ketogenic diet and how that diet helped them to lose weight and increase mental clarity. Each decadent cookie has less than one gram of sugar, which is naturally found in nuts. You could eat a whole box of 16 Nui cookies and still consume less sugar than one traditional cookie. The cookies are low carb, gluten free, and keto friendly!
After baking Nui cookies in their home kitchen for themselves, friends and families, Quiaoit and Macias, created a website and posted about their cookies on Reddit which led to initial orders. The next step was two very successful Kickstarter campaigns that raised over $200,000.  They were recently featured on my favorite TV show, Shark Tank and offered investment deals by Sharks, Kevin O'Leary, Barbara Corcoran, and guest Shark, MLB Allstar, Alex Rodriguez and they chose to go with Alex Rodriguez!  During the interview, Kristoffer and Victor will also describe what it was like pitching their cookie deal to the sharks and how they prepared for this moment that changed their lives forever.  This was an amazing and inspiring interview of two young first generation immigrants, whose parents showed them that hard work and perseverance always pay off.
Click Below To Listen (21:33)